So now I have a nice DSLR camera, what flash should I buy….
I'm posting this article primarily for photography students in my second level (intermediate) photography class, but thought it would be good info to share with anyone else considering purchasing an affordable flash that you can grow into. Below are a few considerations to think about and a some actual flash recommendations. I'm not recommending manufacturer brand flashes because they are typically 2-3 times the price of comparable aftermarket flashes and the goal here is to stay affordable!
Considerations:
1. Purchase a dedicated TTL (through the lens) flash that has a manual mode and variable power output adjustments. This is non negotiable – you need both of these features. The TTL feature allows the flash to communicate with your camera on metering and light output for automatic flash shooting. Manual mode will allow you to take creative control of flash output. You will need to purchase the correct model that is dedicated to your camera brand (i.e. Canon, Nikon etc)
2. If you want to shoot off-camera with your flash, you may consider a flash with a sync port incorporated, or you can purchase separate adapters later for $15-20. Not a show stopper for now.
3. I recommend a flash head that has tilt and swivel features and also has a diffuser and reflector card built in (as shown below). These features allow more creative flexibility and control as you learn how to use your flash.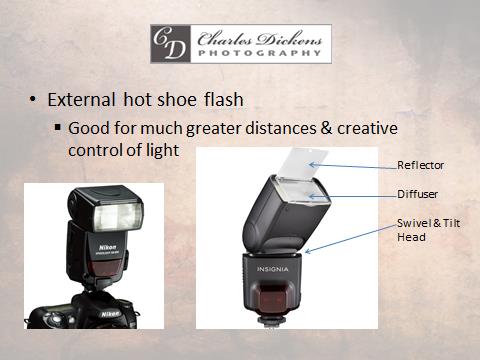 Recommendations:
1. For the lowest price and with all the above mentioned features, the Yongnuo YN-565ex N is my top recommendation for Nikon owners, coming in at roughly $80. Here is the link: http://www.bhphotovideo.com/c/product/1110994-REG/yongnuo_yn_565ex_n_speedlite_for.html
2. Updated 10/31/16: For Canon owners, the YN-565ex C was discontiued at one point but now seems to be available again, so here is the link for it: https://www.bhphotovideo.com/c/product/1110993-REG/yongnuo_yn_565ex_i_ii_c_speedlite.html This comes in around $80 currently.
Update 10/31/16: If you want to spend about $25 more dollars and get everything you would ever want in a camera flash, you can upgrade to the top of the line Yongnuo flashes for Nikon or Canon, which includes high speed sync (HSS) and a built in wireless receiver. With the built in receiver, you don't have to wire up and purchase a separate receiver to the flash for off camera wireless triggering. (see links below):
For Nikon Cameras: https://www.bhphotovideo.com/c/product/1247484-REG/yongnuo_yn685_n_yn685_wireless_ttl_speedlite.html
For Canon Cameras: https://www.bhphotovideo.com/c/product/1187134-REG/yongnuo_yn685_wireless_ttl_speedlite.html
There are certainly lots of other brands, but not many that offer all the features and reliability that these flashes offer. Happy shooting, and remember, don't flash people without permission 🙂
Update 11/14/16: Interested in some other options? Here's a great article from B&H Photo on 7 recommended third party flashes: https://www.bhphotovideo.com/explora/photography/buying-guide/7-recommended-third-party-flashes?utm_medium=Email%201630700&utm_campaign=Holiday2016&utm_source=03-Sort%20161113&utm_content=Explora&utm_term=quality-oem-flashes
Keywords: Photography classes, photography class Raleigh, photography classes Raleigh, photography education, photography courses, photo class, photo classes, photography courses Raleigh