Custom images created just for your Business
We help your business succeed by creating high quality professional images to support your marketing and branding efforts.
Strategically designed professional images can instantly send a powerful message to your viewing audience. From professional head shots to facility or product images, it's important to supplement your story with images that have impact, and capture your audience's attention.
Whether you're a small business or larger company, we customize our commercial photography shoots to meet your specific business needs. Our commercial photography work spans a wide range of industry segments from food to medical and everything in between. We can photograph products, architectural interiors, exteriors, facilities, staff members, head shots and more.
We specialize in Commercial Photography for the Raleigh Durham area, but often travel for client shoots, so just let us know what your needs are.
Professional Images for your Website
We photograph many commercial shoots for businesses who are updating their website or creating a website for their new business. We will often come in for a half day commercial shoot and photograph professional head shots of the key staff members and then photograph the facility, interior and exterior, if needed, and any products or processes that are key to conveying what the company provides. We typically will discuss the project with decision makers up front and nail down critical shots and prioritize and plan the shoot to work with everyone's schedules.
Medical, Veterinary, Pharmaceutical
We have photographed numerous commercial shoots over the years for clients with small to larger size medical practices here in the triangle area of NC, as well as close to twenty different veterinary clinics across the state. We have also photographed for several small to medium sized pharma companies in the NC area, which gives us a wide range of experience in knowing how to help showcase the businesses in these unique industry segments.
Architectural and Real Estate Photography
We can provide professional photography for residential and commercial real estate agents, home builders, and other professionals who need professional architectural photography to show case their homes, buildings, construction projects etc. One unique aspect of what we provide includes incorporating multi image panoramic (wide perspective) photography to best showcase interiors. We also photograph multi image HDR (high dynamic range) images, where exterior lighting conditions are typically too contrasty for even the best digital cameras to capture the entire range of light, from highlights to shadows.
Just a few of our corporate / commercial clients: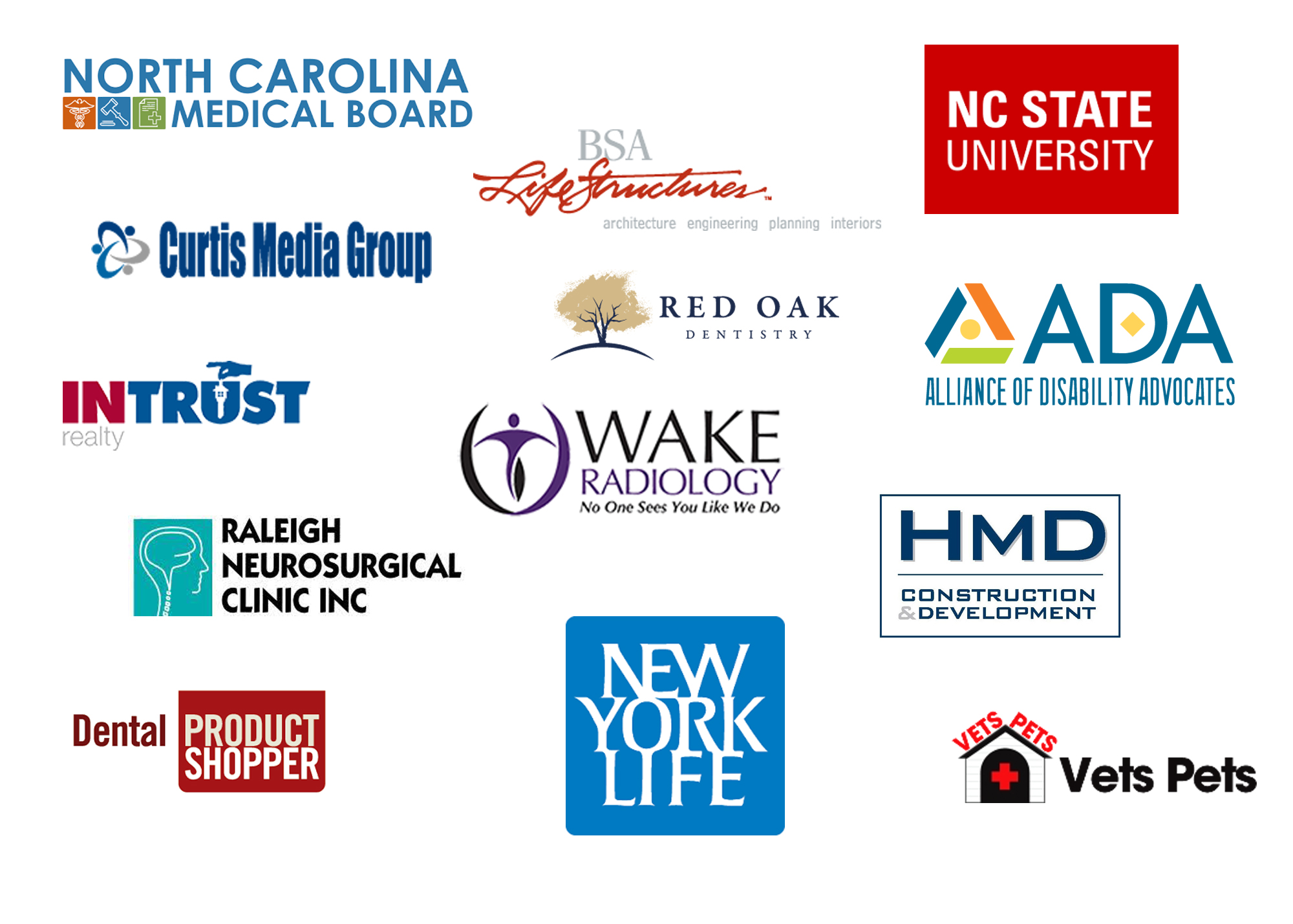 If you have a need for professional commercial photography for your business,
contact us and see how we can help you present your business in the best "light" possible.